Gold & Silver / Or & Argent
Institut canadien de la photographie / RVB Books
"Or et Argent offre un relecture contemporaine d'un fond d'archives inédites sur la ruée vers l'or en Californie. Donation de Archive of Modern Conflict il est désormais conservé à l'Institut Canadien du Musée des Beaux-Arts du Canada.
De jeunes argonautes des années 1850 fixent et défient l'objectif bouleversant toutes les conventions de la pose. Tout dans ces images, les attitudes, les regards, les vêtements, diffère des représentations habituelles de la daguerréotypie. Aux côtés de ces portraits une série de paysages eux aussi tirés sur métal révèle une iconographie pionnière du paysage américain qui valorise l'exploitation du territoire par l'homme. Le photographe est intervenu à postériori sur les clichés, agrémentant les ruisseaux de poussière d'or ou rehaussant les tamis de chercheur d'or de pépites. Le design du livre vient souligner les liens entre l'or du grand Ouest et l'argent, deux métaux utilisés dans la photographie. Co-édité par Institut canadien de la photographie du Musée des beaux-arts du Canada.
Gold and Silver offers a contemporary insight into an exclusive archive of the California Gold Rush held by the Canadian Photography Institute of the National Gallery of Canada, and donated by the Archive of Modern Conflict. Young nineteenth-century argonauts look at the camera, defying all the conventions of portraiture. Everything in these pictures – their attitudes, their stares, their clothes – deviates from the usual representations associated with daguerreotype photography. These portraits are accompanied by a series of landscape photographs, also printed on metal. Together, they reveal a pioneering iconography of the American landscape that stresses the human use of the land. The photographers manipulated their images after were printed, adding gold dust onto streams or gold nuggets onto the sieves of the pioneers. The book design highlights the relations between gold from the Great West and silver – two kinds of metallic salts used in photography.
Gold and Silver is co-published by the Canadian Photography Institute and RVB BOOKS."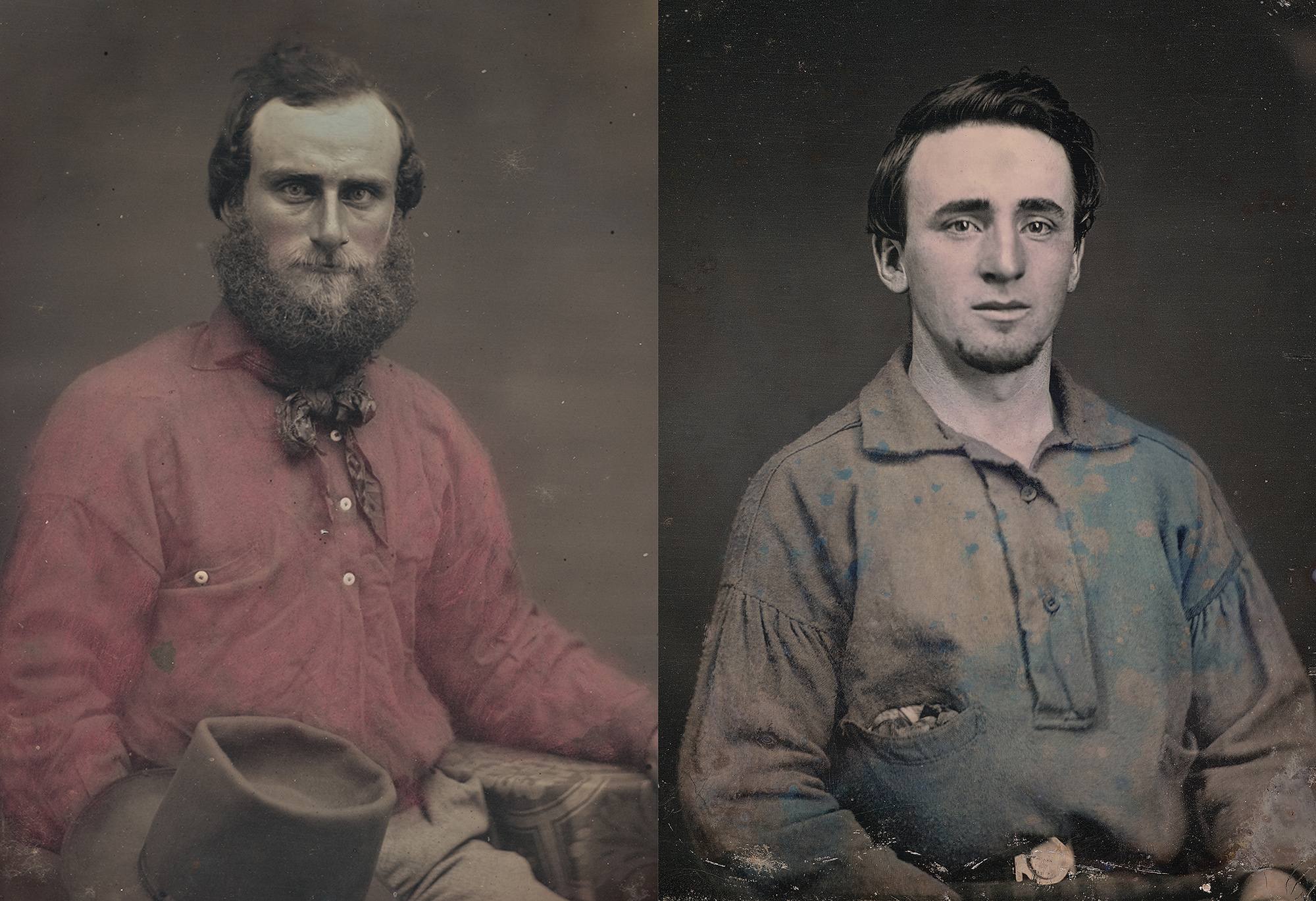 © Institut Canadien de la photographie
Broché: 128 pages
Editeur : RVB Books / Institut canadien de la photographie (13 octobre 2017), reédition 2018
Langue : Français
ISBN-13: 979-1090306677
ASIN: B072ZVV8CS
Dimensions du produit: 31,8 x 1,2 x 23,7 cm
•
Landscape Stories
, n°30 :
"Archive : Gold and Silver", 2019
• La Berlue :
"L'or du temps", 04/03/2018 :
• De Groene Amsterdammer :
"Tijd van roof en verwachting", 21/04/2018, Rutger van der HOEVEN :
• Bad to the Bone :
"Gold & Silver. Daguerréotypes, ambrotypes et ferrotypes de la ruée vers l'or", mars 2018, n°12, p.174-181 :
• Réponses PHOTO :
"Gold and silver. Daguerréotypes, ambrotypes et ferrotypes de la ruée vers l'or", 03/2018, n°312, p 6 à 9 :
• Daily Mail :
• Le Temps :
"Ruée vers l'or: les premières images", 28/01/2018, Caroline STEVAN :
• Le Temps :
"Les premières images de la ruée vers l'or", 27/01/2018, Caroline STEVAN :
• Blog | Chambre avec vues :
• Hyperallergic :
"Daguerreotypes of the California Gold Rush", 09/01/2018, Claire VOON
• L'Oeil de la Photographie :
"Gold and Silver, images inédites de la ruée vers l'or en Californie", 04/01/2018
• British Journal of Photography :
"Q&A: Luce Lebart from the AMC-backed Canadian Photography Institute", 21/11/2017, Laurence BUTET-ROCH
• Le Devoir :
"L'or de la photographie ou le rêve des argonautes révélé", 09/11/2017, Jean-François NADEAU :
• leDroit :
• Cision :
"Territoire, frontières et migrations : trois thèmes communs aux trois nouvelles expositions qui prennent l'affiche à l'Institut canadien de la photographie", 01/11/2017, Musée des beaux-arts du Canada